My Solo Camping Road Trip and Trauma!
Travel
17 June 2022
Firstly, have I camped before? Absolutely, NOT!
Secondly, did I crash my car in 2019 and get driving anxiety? Most definitely! Am I crazy to sign up for a camping road trip then??? Highly likely, that'd be a fair assumption.
But here is why I did it and things I learnt.
2019, I tell you, was a significant year of my life, some major life events took place that year, that definitely made me aware of what kind of person I wanted to be and where do I want my life to go, well roughly.
Little background, I have ALWAYS (when I say always, I mean since March 2019) wanted to do a road trip around South Island in New Zealand. That was the first time I visited Queenstown for a mini trip. I was struck by the Autumn beauty, it made me reminisce about 'home' – Jammu and Kashmir. Felt like these were the mountains I was surrounded by when I was growing up.
Couple of months later that year, in July, I was driving to Whitianga, when my car lost control, slipped and crashed right into a mountain. My car was written off, I got minor injuries, but I recovered physically. The trauma I got from the accident though, I never fully recovered from it. I was driving my car and the person I was seeing at that time was in the passenger seat. The fear of hurting someone I love, haunts me still to this date.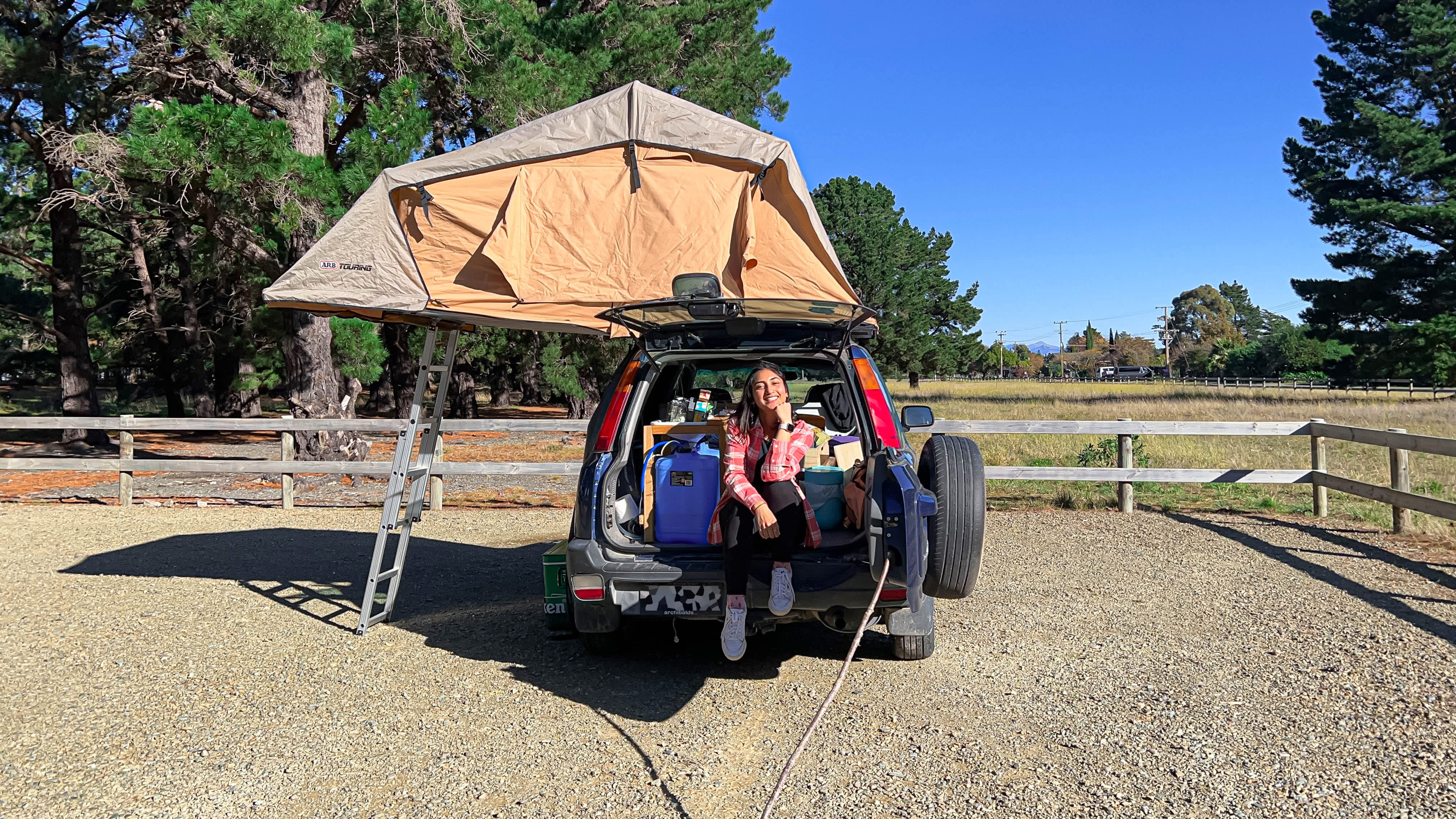 So, yeah, me deciding to do a long road trip was definitely a big test for myself and what I have been working on since my accident. I don't want to talk too much about my driving anxiety in this post, but briefly, I am in much better state now, then where I was in 2019 and it took me pushing myself to drive as much as possible and support from friends to get here.
I realized that, to take power away from trauma is to not be defined by it, & showing up for myself, day after another, regardless of my anxieties & fears will get me through it.
To be extra cautious on my road trip, these are the things I did:
1. Shared my live location with a close friend and had this person's number as emergency contact.
2. Got AA membership for road service. This membership covers you and not the car and in any unforeseen bad circumstance, you can call them and they will show up and help you with the situation.
3. Made sure the car I was driving (my friend's car) was serviced, air bags were functional (they saved my life once, so yeah made sure they work), had the registration and all other standard bits and bobs in place.
4. Made some changes and upgrades to my content insurance, so all my gadgets – phone, laptop, were covered when I travel within New Zealand.
5. Always told at least 1 close friend where I was and what I was planning to do that day.

For this trip, I drove my friend's car with a roof tent from ARB Touring. I had 2 days of training on the car and how to set up the tent by the way 😅.To live tent life, this is what I learnt, if you are too attached to your bed, you might want to practice sleeping on a firm mattress to give you a practice run.
Pros of ten life: You can do more in less money.
Cons of tent life: It is weather dependent, so you need a back-up plan for rainy days. Mine was staying in a hostel. There are new and modern tents that can survive harsh weather conditions, but that means more cost.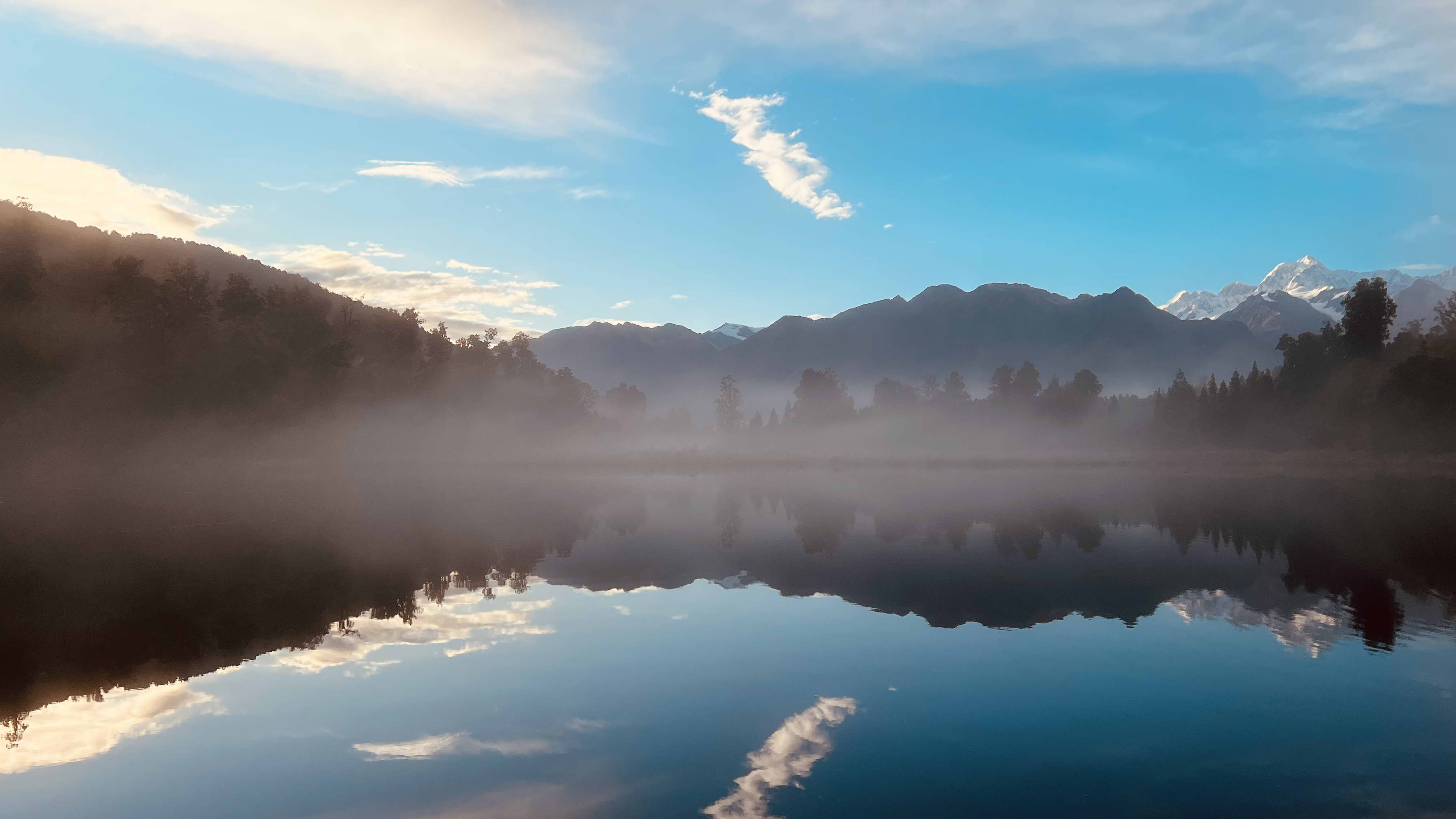 Image: Lake Matheson, Fox Glacier, South Island, New Zealand
For people new to camping, here is a list of camping essentials I had:
1. Sleeping bag with silk liner, if you are also travelling in winter to keep you extra warm in cold nights
2. 20-25liters of clean water
3. Gas bottle refills for my stove
4. Kitchen essentials, 1 each: - Pot, small 16cm - Pot, large 26cm with lid - Pan, 24cm - Chopping board - Spatula - Plate - Mug - Bowl - Spoon - Fork - Knife - Jars – small 350ml (for my overnight oats) and big 1liter for soaking rice/lentils - Containers – small and big - Spices – whatever you need, can pack into small containers
5. Dry food enough for at least 7 days (in case of emergencies)
6. Cleaning supplies: - Dishwashing liquid - Scrub - Tea Towels - Micro fiber cloth - Bin Liners - Hand wash - Toilet paper (I used it as kitchen cleaning paper as well)
7. Power bank capable to charge my phone and watch for at least 3 days. I have Belkin Boost Charge Power bank 20K, Model: BPB003
8. Head light and a portable light for your van or tent
Finally, some 'Road Trip' Tips, that worked for me:
I did grocery shops when I was crossing a town that had Pak n Save to save money. And only bought essential items and fruits and vegetable enough for 3-4 days, logic is, they can stay okay in the car without a fridge.
I had a rule for gas, as soon as the bar hits the middle, I would fuel up the car to full. This was because the top part of the tank is bigger than the bottom and car can run longer with the first half of the tank vs the bottom half. I made it my life purpose to not get stuck anywhere because of not enough fuel in the car! Ha! One less thing to worry about.
Grab your favorite pillow and you will enjoy the whole trip. What I realized is, I didn't miss my bed at all, just because I had my pillow for the entire trip. This is obviously optional.
I avoided drinking alcohol, because I was my own savior and I had to be on guard in case an evil monster decided to harm me. 😤💪
Leave your head phone in the car when going for a hike or walk, I feel the best way to enjoy outdoors is to not have artificial noise in your head and be in the present moment, listening to nature.
If you wanted to do something like this and don't know where to start, just remember, I was just like you once. You just have to start at Step 1 and things work out as you go. Step 1 is the hardest.
All the very best to you. 🤝♥️
PS: My next blog will be on how I saved for my trip and details around trip expenses.